Mens
All Items
New Items
Mens Outerwear
Mens Tops
Mens Bottoms
Suited and Booted
Mens Footwear
Tracksuits
Sale Items
Womens
All Items
New Items
Dresses
Outerwear
Tops
Bottoms
Footwear
Swimwear
Sale Items
Accessories
All Items
Bags
Handbags & Purses
Mens Belts
Womens Belts
Bow Ties
Patches & Pins
Braces
Cravats
Cufflinks
Hats
Mens Gloves
Womens Gloves
Pocket Squares
Mens Scarves
Womens Scarves
Mens Socks
Retro Sunglasses
Ties
Umbrellas
Mens Underwear
Mens Wallets
Mens Watches
Womens Watches
Womens Socks & Tights
jewellery
Mens Nightwear
Sweatbands
Sale Items
Homeware & Gifts
All Items
iPhone Cases
Blankets & Throws
Clocks
Hip Flasks
Keyrings
Magnets
Mugs & Kitchenware
Vinyls & CDs
Plectrums
Record Boxes
Retro Telephones
Retro Toys
Books & Magazines
Vintage Decor
Record Players
Lamps
iPad & Laptop Covers
Retro Radios
Speakers
Men's Grooming
Sale Items
Gift Vouchers
Brands A-Z
Trojan Records Women's Clothing
Trojan Records clothing collection, ousing with retro influences and mod traits making it a leading heritage British brand, following the footsteps of the iconic record label.
The story of Trojan Records starts in 1968 when British-based Jamaican music company, Island Records, launched a label to promote the work of popular ska and rock DJ Arthur 'Duke' Reid. Named 'Trojan' as this was the title Reid had acquired in his early music business career, the company folded after a matter of months. It looked as though the end may have been in sight for Trojan until the creation of a new Jamaican music company which also launched in 1968. The merge of Island Records and distrubutor B&C created 'Trojan Records' who were fast issuing singles on a variety of different labels.
Trojan Records went from strength to strength during its first year of business, this was corralated with the rise of the working class, youth subculture, Skinheads, who towards to end of the 60's embraced the Jamaican culture as its own. The fast developing demographic influenced the explosin in sales of 'Red Red Wine' which was the companies first mainstream hit by Tony Tribe. Artists such as The Upsetters, The Pioneers and Desmond Dekker also owe their success to Trojan Records by helping them step onto the higher reaches of mainstream listings.
In the spring of 1971, Dave & Ansel Collins' 'Double Barrel' gave Trojan its first UK number one whilst many further entries followed, the record label also highlighted music by artists largely unknown outside Jamaica, many of which were due to become major international recording stars among these were Bob Marley & the Wailers.
Trojan Records success was continued over the following year or so however in 1975 the company hit financial struggles and acquired Marcel Rodd as the new owner. Rodd was very inexperienced with Jamaican music which proved costly, this was despite signing deals with many up-and-coming producers. Another stroke of luck hit Trojan Records as the 70's came to an end, the 'Ska Revival' caused a substantial upturn in its fortunes. Bands such as Madness and The Specials renewed interest in Ska and the company was thriving once more! Unfortunately their luck was to run out a second time and interest was lost in the mid 1980's. Colin Newman was next to purchase the label and under his charge Trojan's focus became its back catalogue, with various specialists employed to ensure it maintained its position as the world's leading vintage Reggae record company.
Trojan Records story takes its last twist in the Summer of 2007 when Universal Music Group took over the company. This meant that Trojan and Island, the imprint of Jamaican music, were brought back together under one roof after 39 years. Universal maintained the company for the following 7 years, providing many acclaimed collections and reviving the much-missed Trojan Appreciation Society, before selling to BMG, a subsidiary of one of Europe's biggest media companies, Bertelsmann.
In 2014 they launched a clothing brand which features womens polo's. The history is clearly portrayed in the pieces, with influences from the 60's and Mod style as well as skinhead.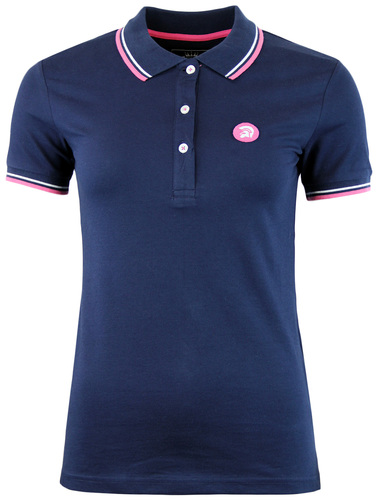 Hurry, Low Stock!
TROJAN RECORDS Retro Mod 60s Tipped Womens Polo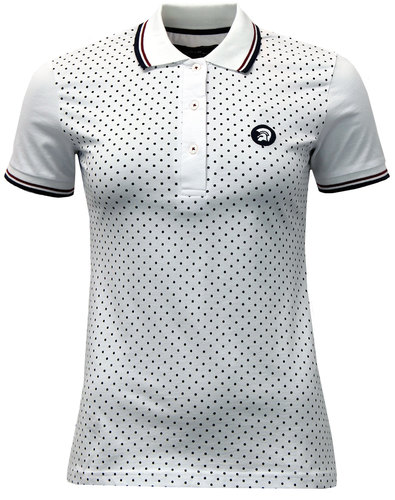 Hurry, Low Stock!
TROJAN RECORDS Retro Mod Womens Polka Dot Polo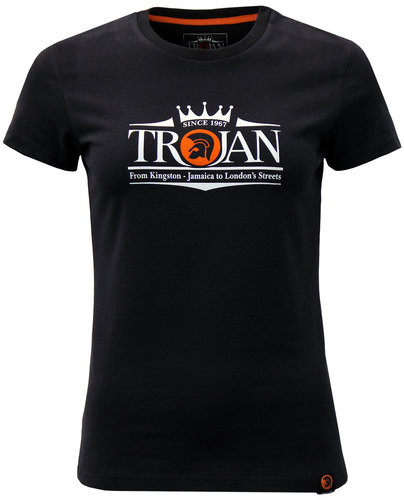 Hurry, Low Stock!
TROJAN RECORDS Retro Mod Womens Signature Logo Tee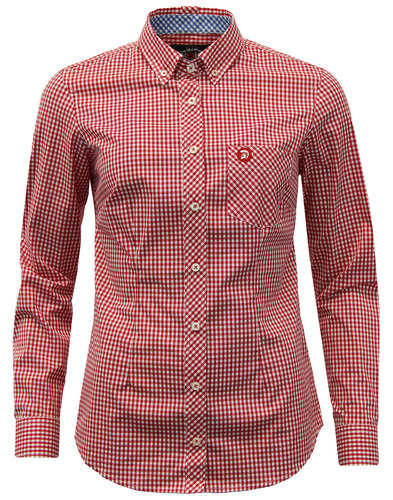 TROJAN Womens Retro Mod Ska Gingham Check Shirt R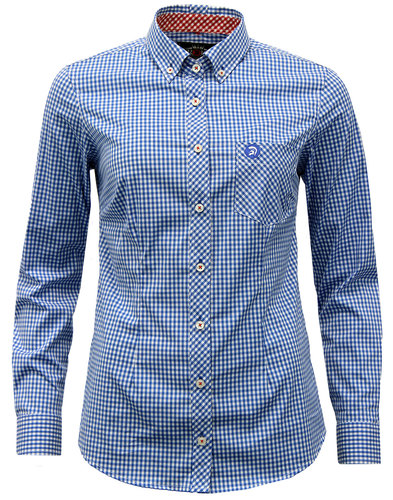 TROJAN Womens Retro Mod Ska Gingham Check Shirt B