8 Reasons Why You Should Own Irregular Choice Shoes
Irregular Choice was created by Dan Sullivan many years ago in the UK and now it is worn and adored by fans all over the world. Magic and childhood dreams are combined to create beautiful shoes, bags and accessories that indulge your inner fairytale princess. Do you own Irregular Choice shoes? Well here are the reasons why you should!
1 – Super cute and girly:
When you first encounter Irregular Choice you can really see why it appeals to masses of women. Its shoes are super adorable and allow you to express how girly you really are – if that is your thing. Lots of glitter, pom poms, hearts and other cute motifs adorn the shoes let you express your love of pink, pastel and cute! Its newest Lovestruck collection is a great example of this – lots of bright pastel colours, sweet heart motifs and oodles of sparkling glitter.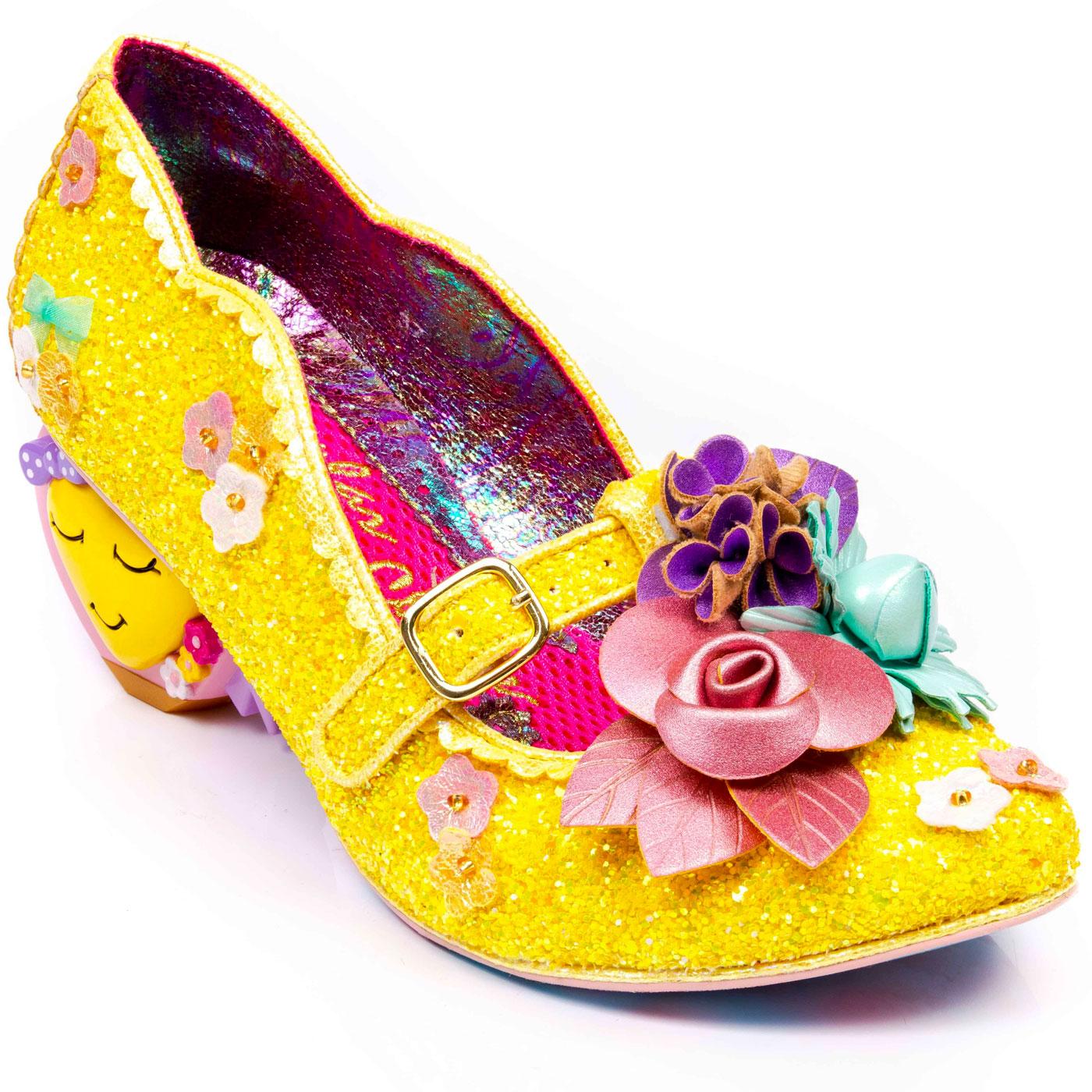 2 – Collectors' pieces:
Irregular Choice is known for its big, elaborate shoes. Even if you're not the type of woman to wear Irregular Choice out on the streets, why not display them in your home where they can still be seen? Irregular Choice shoes are a spectacle in their own right and many simply treat them as ornaments for their home. The Chestnut heels demonstrate this perfectly. Whilst they're not the most practical of heels, you can still wear them if you feel like it. The snow globe carousel design and beautiful sparkling upper mean that they wouldn't feel out of place on a shelf in your home.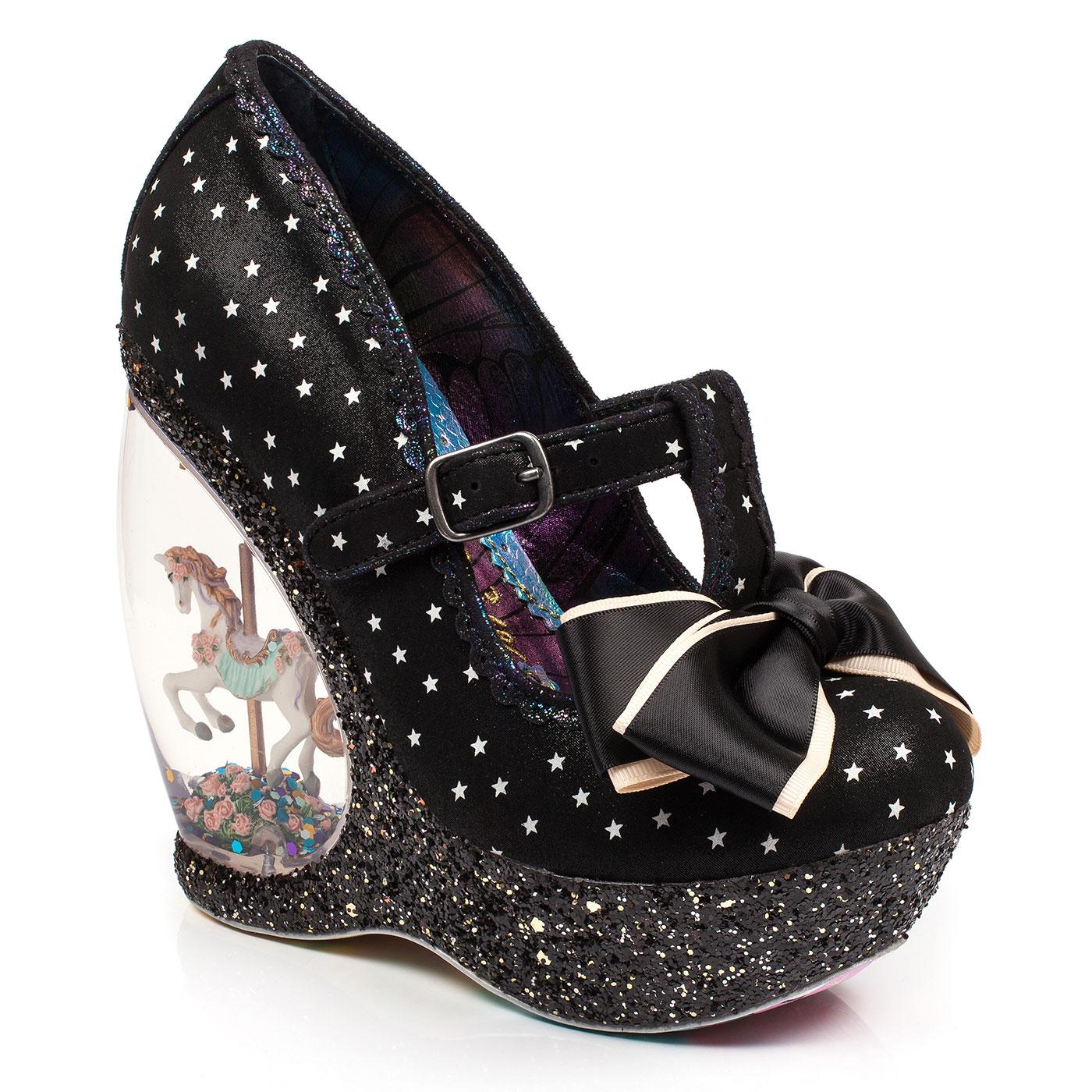 3 – Perfect for animal lovers:
Do you love animals? Are you more of a cat person or a dog person? Either way, Irregular Choice has you covered! Plenty of its shoes feature both animal motifs and prints, even if they're subtle. Take Dream Lover, for example; these heels are on the more subtle side with a black and white glitter upper but the bow has an adorable sleeping kitty in the centre. If you're not into cute and fluffy then what about insects? These Ladybee wedges come in both bee and ladybird form for the woman that likes insects. Birds, fluffy critters and creatures of the night are all represented on stunning shoes so there's something for every animal lover!
4 – The Disney collaborations
Let's face it, everyone loves Disney. Irregular Choice certainly does! Every so often it will collaborate with Disney to create a stunning themed shoe and bag collection. So far they have done both the more girly side of Disney e.g Alice in Wonderland, to the more gender-neutral films like Dumbo and Bambi. A variety of characters are represented in these collections in case you're not as keen on the main protagonist. These fab Forest Friends Bambi flats feature both Bambi and Thumper on them as best friends forever and these Fierce Piggy Muppets boots feature the lovely Miss Piggy in all her glory. If you love Disney you do not want to miss these special themed shoes – they're limited edition though so you best get in there quick. Once they're gone, they're gone!
5 – So many themes to choose from
Irregular Choice makes sure you celebrate the holidays in style. These fluffy Luce Mia heels were designed for wear around Easter time – although you can actually wear them any time you like. Fluffy pom poms and sweet tiny bunnies adorn the shoes, making them the perfect Spring shoe. Easter isn't the only holiday shoe that Irregular Choice has brought out. Every year, it brings out a beautiful Christmas collection. Princess Promise were released last Christmas and feature a glitter upper with beading detail that is reminiscent of a Christmas tree and baubles. Irregular Choice even brought out a Halloween collection! The Incy Wincy flats feature spiderweb appliqué that gives them a spooky Halloween vibe. The beauty of these heels though, is that you can wear them any time of the year as they're so versatile – Halloween could be every day with Irregular Choice if you wished it to be.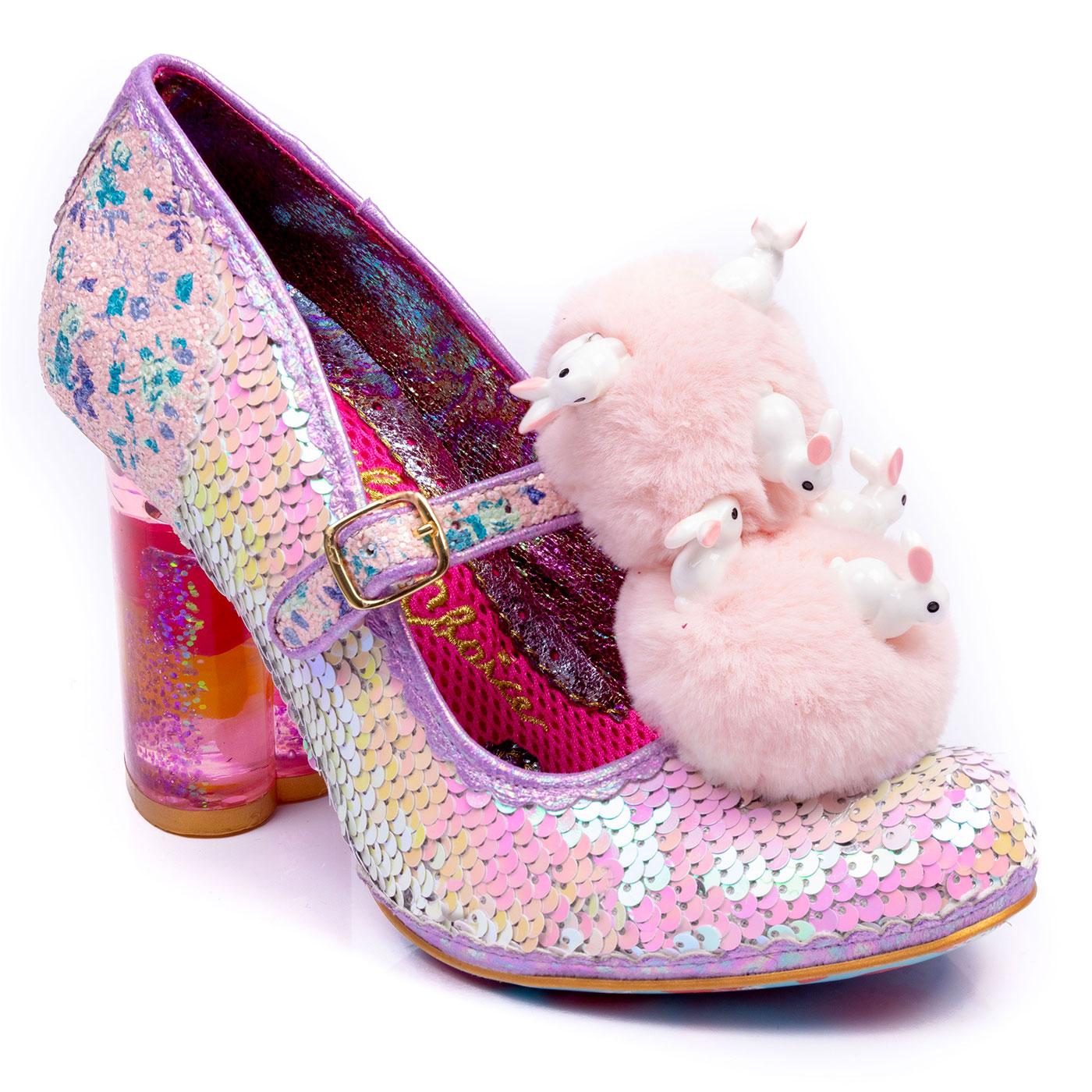 6 – Stand out from the crowd
Feeling blue or want to stand out from the crowd? Wear Irregular Choice! Always guaranteed to put a smile on your - or someone else's - face, Irregular Choice is a bright and colourful brand that is sure to get you noticed! If you want to make a statement with your fashion the Let It Be platform boots are perfectly eye-catching with their fantastic glitter upper and retro 70s vibes. Irregular Choice is sure to brighten any outfit.
7 – Something for everyone:
Not a big lover of heels? Irregular Choice also makes cute flats and sandals. Mermazing still retains all that special Irregular Choice sparkle but unlike most of their shoes, Mermazing come in trainer form. Irregular Choice also make sandals and pool sliders and flats for walks during summer. Mint Slice is perfect for the woman who doesn't feel comfortable wearing heels all the time, but with the glitter covering and a big beautiful bow on the front, they don't lose any of the Irregular Choice charm. Even if you prefer flats, you're not missing out! Irregular Choice provides something for everyone.
8 – The shoes you really wanted as a kid:
Let's face it, you would have thrown a tantrum for these shoes when you were younger. Tons of glitter and sequins imitate the childlike whimsy you had for seeing such shoes. Irregular Choice's vibrant array of characters are made to reignite that childlike wonder. Loosen the Reins features the Little Misty unicorn character as appliqué on the front of the toe. Who didn't want their own pair of unicorn shoes as a child? Holiday Romance also feels magical in its design with its colourful rainbows and glitter colour scheme. Now you've got the money, why not treat yourself to the enchanting shoes you've always wanted? You know you want to.
Have we convinced you yet? Then what are you waiting for? Go out and buy the shoes and bags of you dreams!
Photography from Irregular Choice