How To Build a 50s Outfit with Collectif Clothing
Always wanted to indulge in some vintage clothing but don't know where to start? Do you like the 50s vibe of Grease, Back to the Future and other American films but you're not sure how to pull the style off? Then look no further. Collectif Clothing make vintage clothes inspired by 1950s America and with this guide you can create a stunning vintage outfit that looks like it's straight off the silver screens of Hollywood.
Dresses:
One of the most iconic elements of 50s female fashion is the swing dress. This is a must have if you love the colourful, cute dresses of the era. Named after swing dancing that developed with jazz music, the swing dress was popular in the 50s for its versatility.
One of Collectif's best-selling swing dresses is the Dolores Doll dress that they produce every season. For summer, Collectif have revamped Dolores and created her in a stunning tropical print complete with toucans and palm leaves for a vintage holiday look.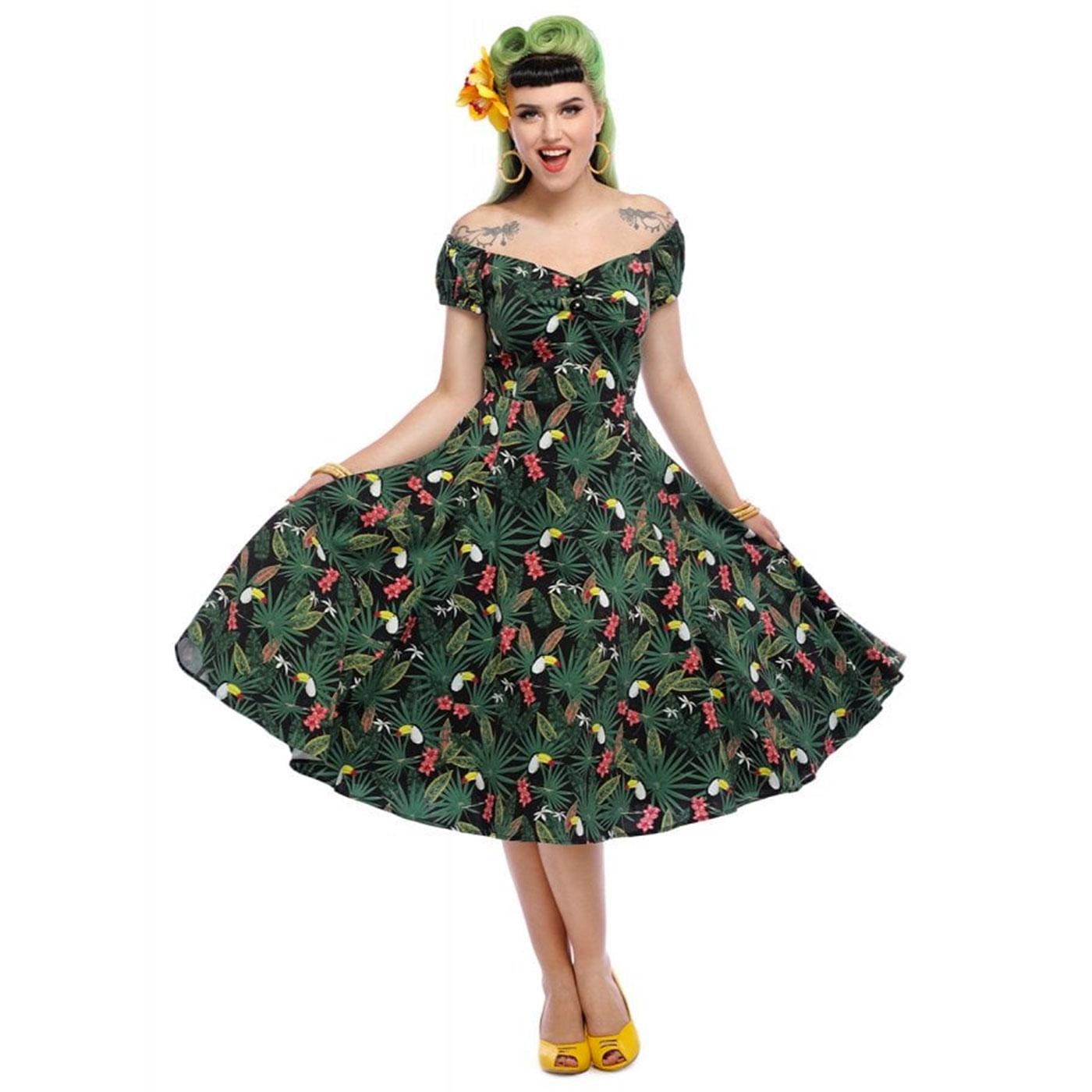 Dolores Doll has a flattering vintage swing dress silhouette with a sweetheart bust and a full circle skirt. An example of the swing dress can be seen in the film Back to the Future in which the character of Lorraine dons a sweet pink swing dress for the prom scene.
Pair with black Lulu Hun Jeanie heels and a cute Joe Browns Oracle handbag for a summer party look.
If you're not feeling the swing dress, how about the more sophisticated pencil dress? Designed to hug your curves, the pencil dress has an A-line skirt and a fitted bodice that's flattering on any shape. Collectif design a variety of different pencil dresses. The Khloe dress has a typical pencil dress wiggle skirt but has a white Peter Pan collar and matching cuffs.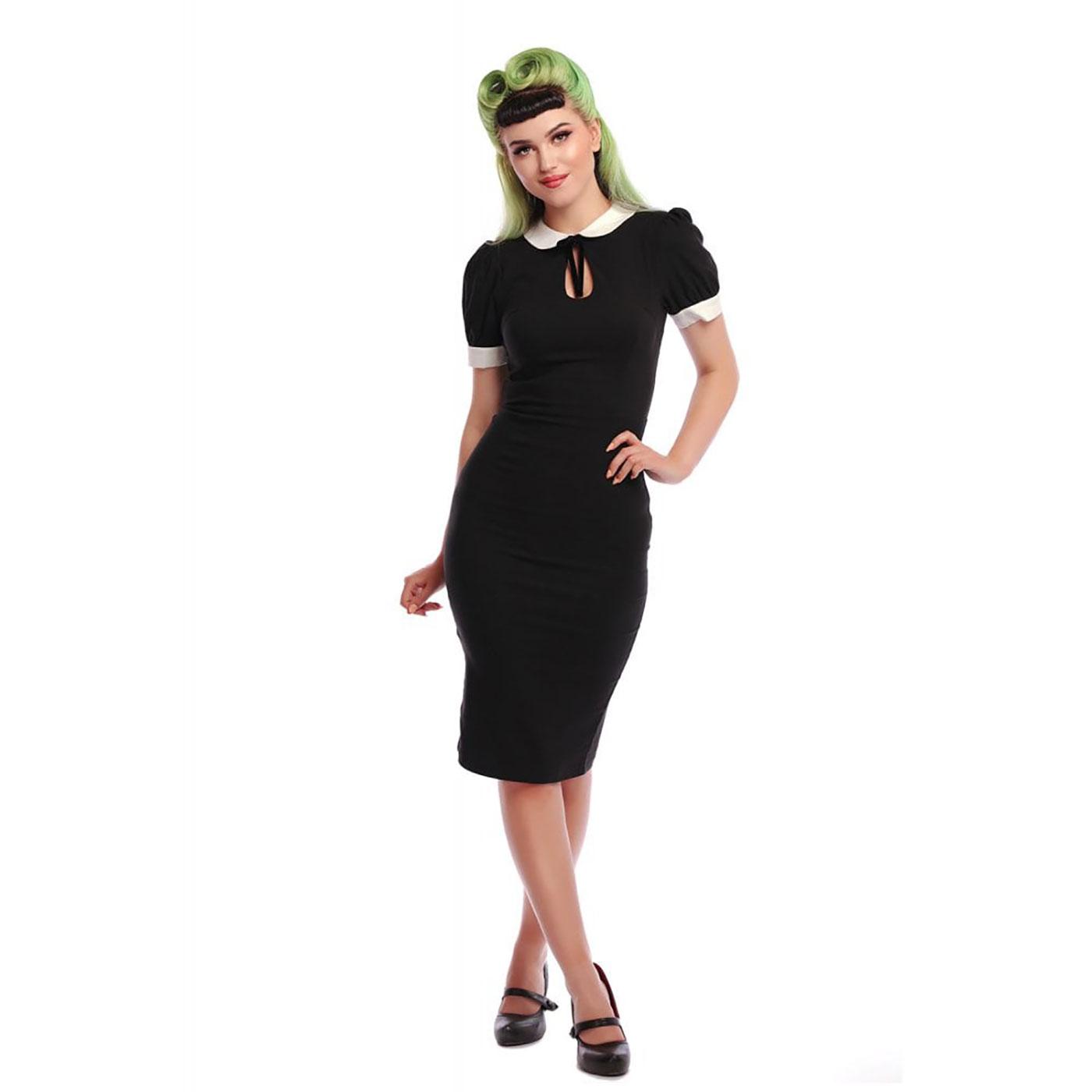 Alternatively, the Wanda dress has halterneck straps and a folded over front that gives a typical nautical vibe.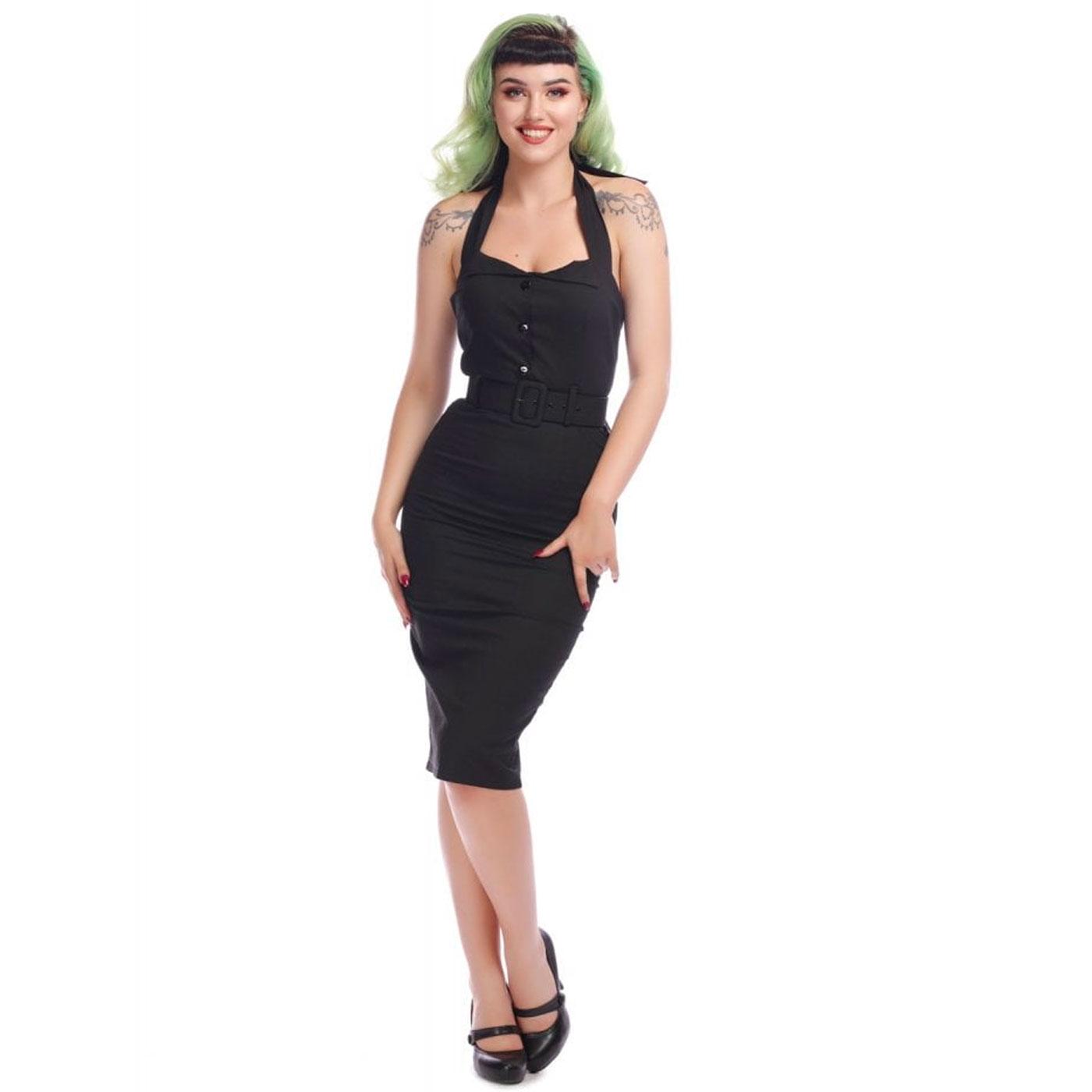 Both dresses can be paired with bright coloured heels and handbags. Add the Cupid Irregular Choice pouch – the vintage love bird design is perfect with the Wanda dress. Meanwhile, the Irregular Choice Liefde heels bring a striking pop of colour to your sexy summer ensemble.
Separates:
If you're not a dress person, tops and bottoms are always an option, too.
When you think about 50s fashion I'm sure you think about films like Grease or Crybaby. Both of these films, although not officially made in the 50s, are set in the 50s and feature reproduction vintage fashion. Grease is synonymous with the classic poodle swing skirt. These skirts were popular in 50s America as they could be customised with appliqué – usually poodles – and allowed women creative freedom with their clothing.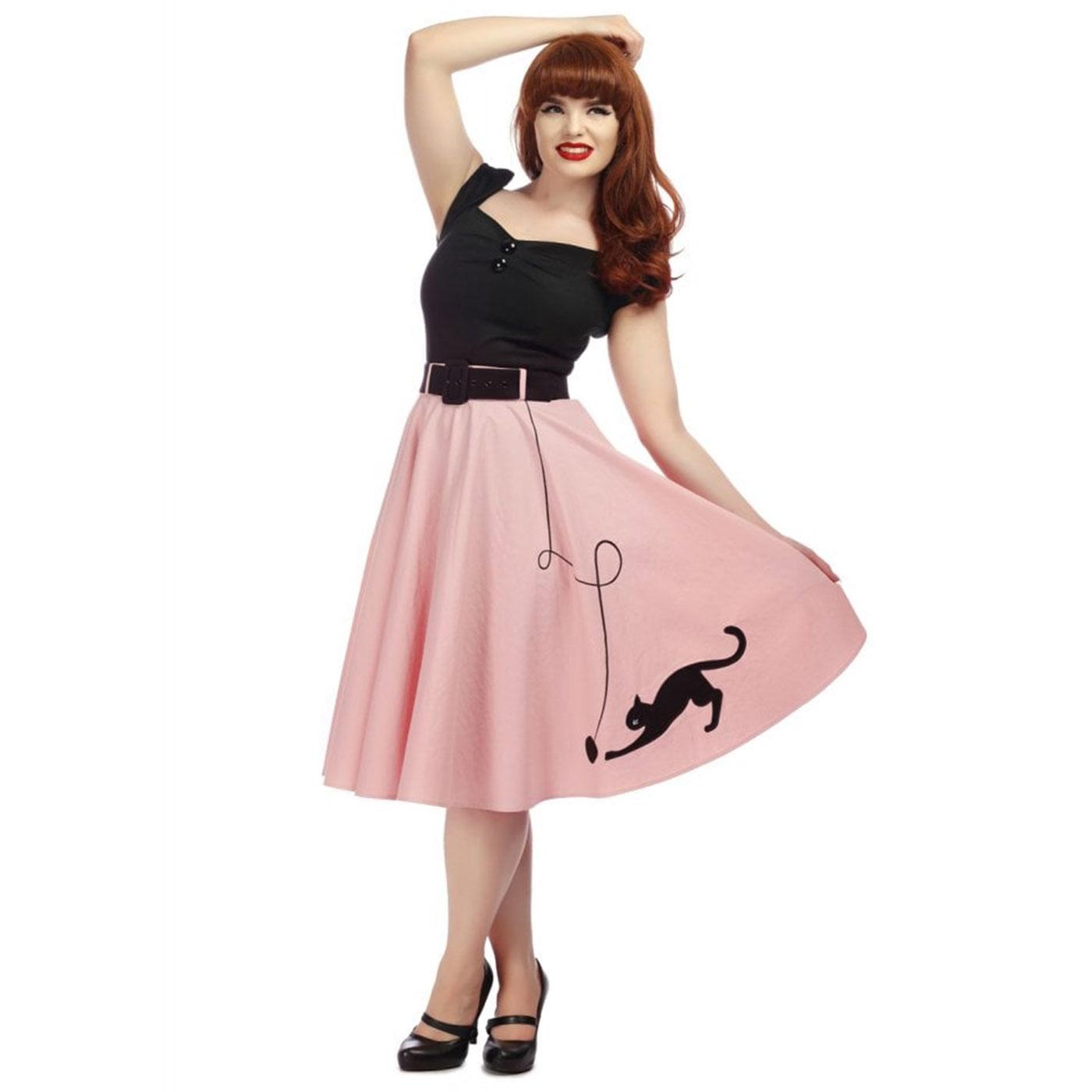 This sweet Kitty Cat swing skirt is a unique take on the poodle skirt with its kitten appliqué and its circle design big enough to fit a fluffy petticoat. Pair this swing skirt with one of the Dolores tops and the Evie heart cardigan – this silhouette really emphasises the waist and bust to achieve that perfect vintage hourglass shape.
Fancy something with a little more edge? Try a pencil skirt. Pencil skirts fall straight and are guaranteed to make your bottom half look fabulous. Most pencil skirts have a hem vent at the back to help you walk in them so there's no tripping over or awkward shuffling!
The Bettina pencil skirt is a favourite of ours and features a hem vent in the back and buttons running down the front for a sexy, vintage look.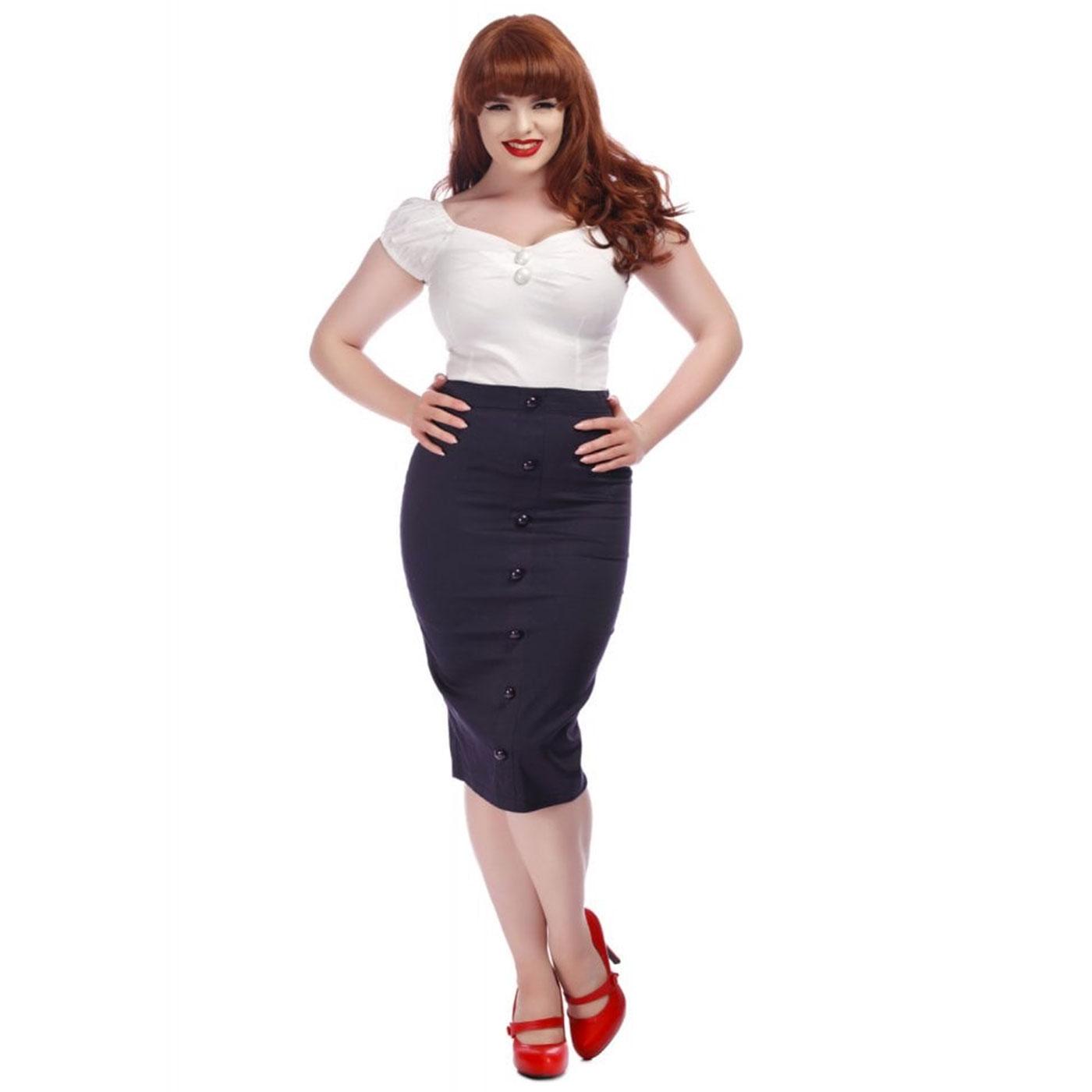 Pair with the Armanda cropped jumper and Poetic Licence End of Story heels for an extra nautical kick.
Not a fan of skirts? Shorts are always a fail-safe option to keep you cool in rising temperatures. Typically, 50s style shorts are high-waisted in order to produce a highly sought-after hourglass silhouette. These Jojo watermelon shorts have that high waist and the vintage gingham check pattern with cute watermelon design has summer written all over.
Pair with the matching Dolores top to create a vintage playsuit effect or with the Babette knitted jumper for colder days. Add Irregular Choice's Nick of Time if you want a more fancy evening look.

Cover up in style:
You can't go wrong with a pair of cigarette trousers on those cooler days. The 'Bonnie' cigarette pants feature an all-over summery tropical print that radiates 50s vibes.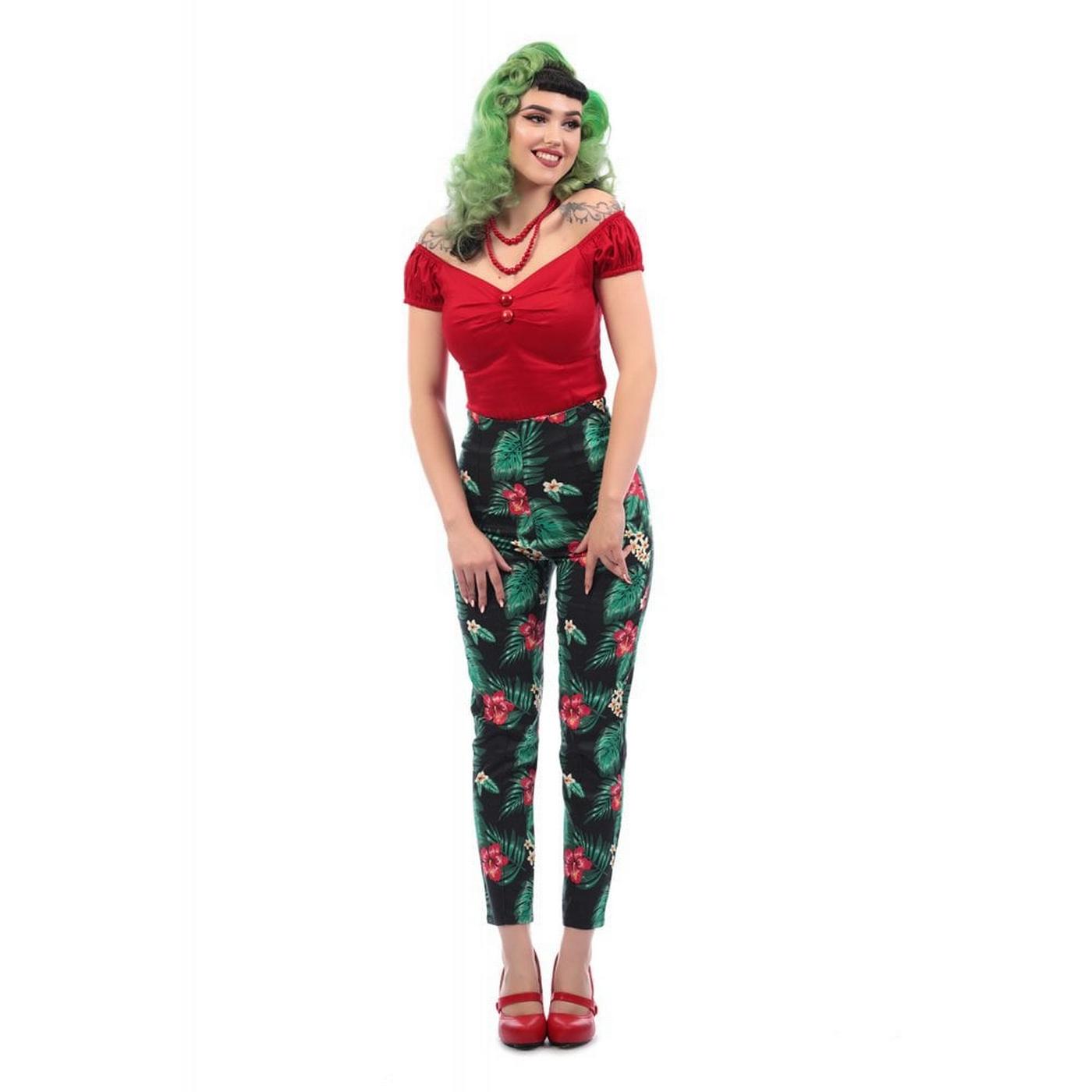 Bonnie are slim-fitting from the hips to knees and loose around the ankles with a high waist – again, to enhance how small your waist is. Complement them with a retro red Dolores top and sweet Razzle Dazzle Irregular Choice vintage heels.
Now you're ready to go out and shop your new vintage style!
Photography from Collectif Clothing and Irregular Choice