Our Sugarhill Brighton Essentials for Summer 2019
Fabulous, flattering and inherently feminine, any garment from Sugarhill Brighton naturally translates to an instant wardrobe winner. Think nautical stripes, a staggering array of eye-popping colours and playful, exclusive prints coupled with whimsical quotes and adorable embroidered animal details. With the weather heating up a treat, we've pulled together our favourite Sugarhill Brighton pieces for you to swoon over.
Mimi 'Revolution' t-shirt
With its bold motif and organic make-up, one thing is clear with the 'Rebel Rebel' t-shirt: Sugarhill Brighton has started a revolution of the sustainable variety.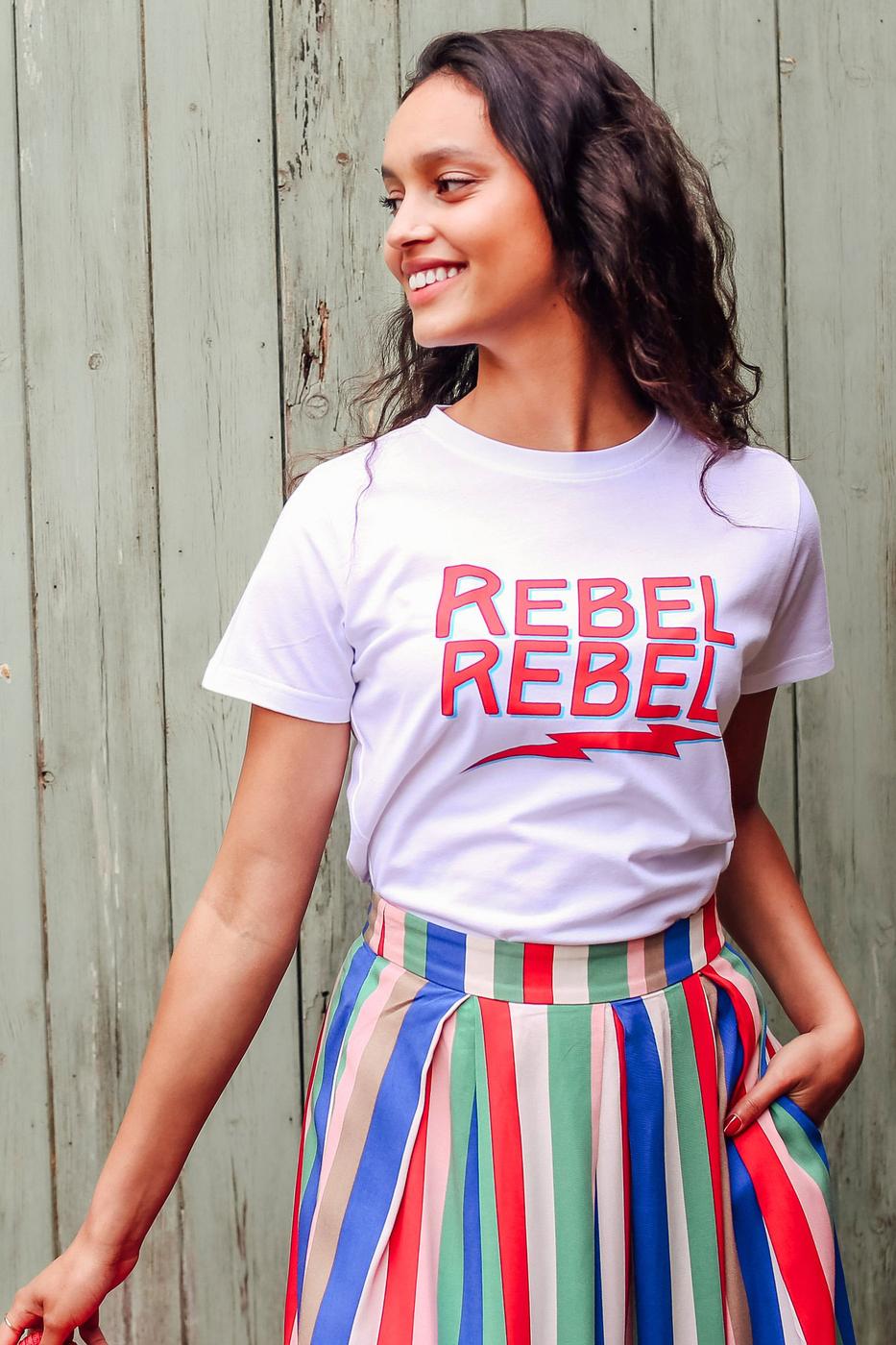 This shouldn't come as a surprise to Sugarhill Brighton coveters. On the back of a name change last year to honour its coastal roots, the brand overhauled the way it does business. Sugarhill Brighton shunned the fertilisers, pesticides and toxic chemicals used in ordinary cotton farming for their Organic Cotton collection.
The 'Revolution' tee is one of the most popular additions to that collection. Lovingly crafted from organic cotton in the best-selling 'Mimi' shape, it's soft, stylish and available from Atom Retro right now. The chest features 'Rebel Rebel' in a futuristic typeface with a neon turquoise shadow. The effect? Undeniable 80s and we love it – do you?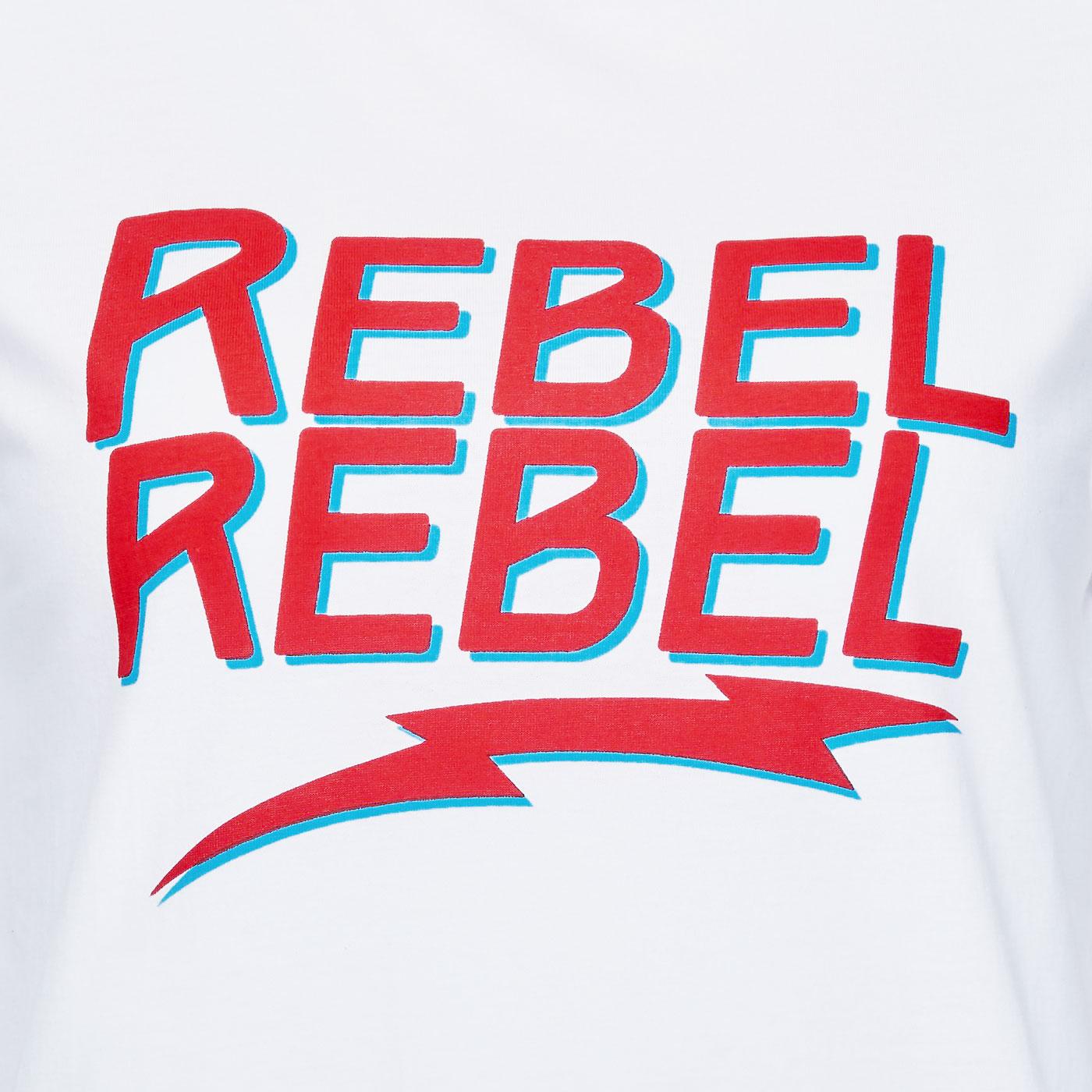 Dress it up with Collectif high-waist skinny jeans and a blazer or throw on with Wrangler cut-off shorts and retro Gola trainers for a look you'll wear over and over, all summer long.
Carrie 'Vintage Cowboy' tea dress
Tea dresses are hugely popular this summer and it doesn't take much to see why. They're cute, breezy and oh so easy to style. In a sea of ditsy prints and 40s' florals, we are especially fond of this little Wild West number – the Carrie 'Vintage Cowboy' tea dress from Sugarhill Brighton.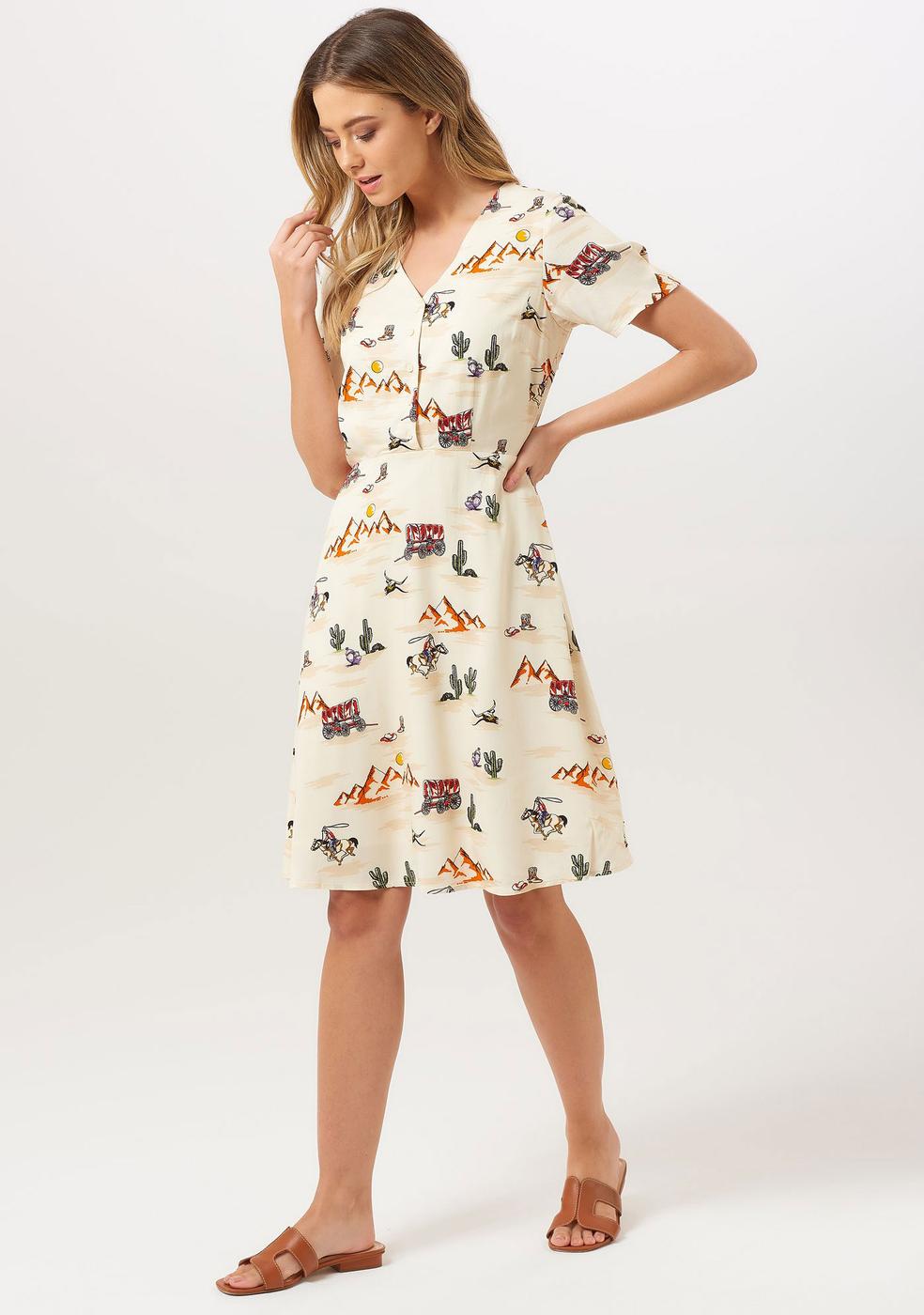 Made from 100% viscose, it may surprise you that the 'Carrie' shape is a new addition to the Sugarhill Brighton. The fit-and-flare cut creates a gorgeous vintage silhouette; nipping in at the waist with the help of self-fabric waist ties and falling just above the knees.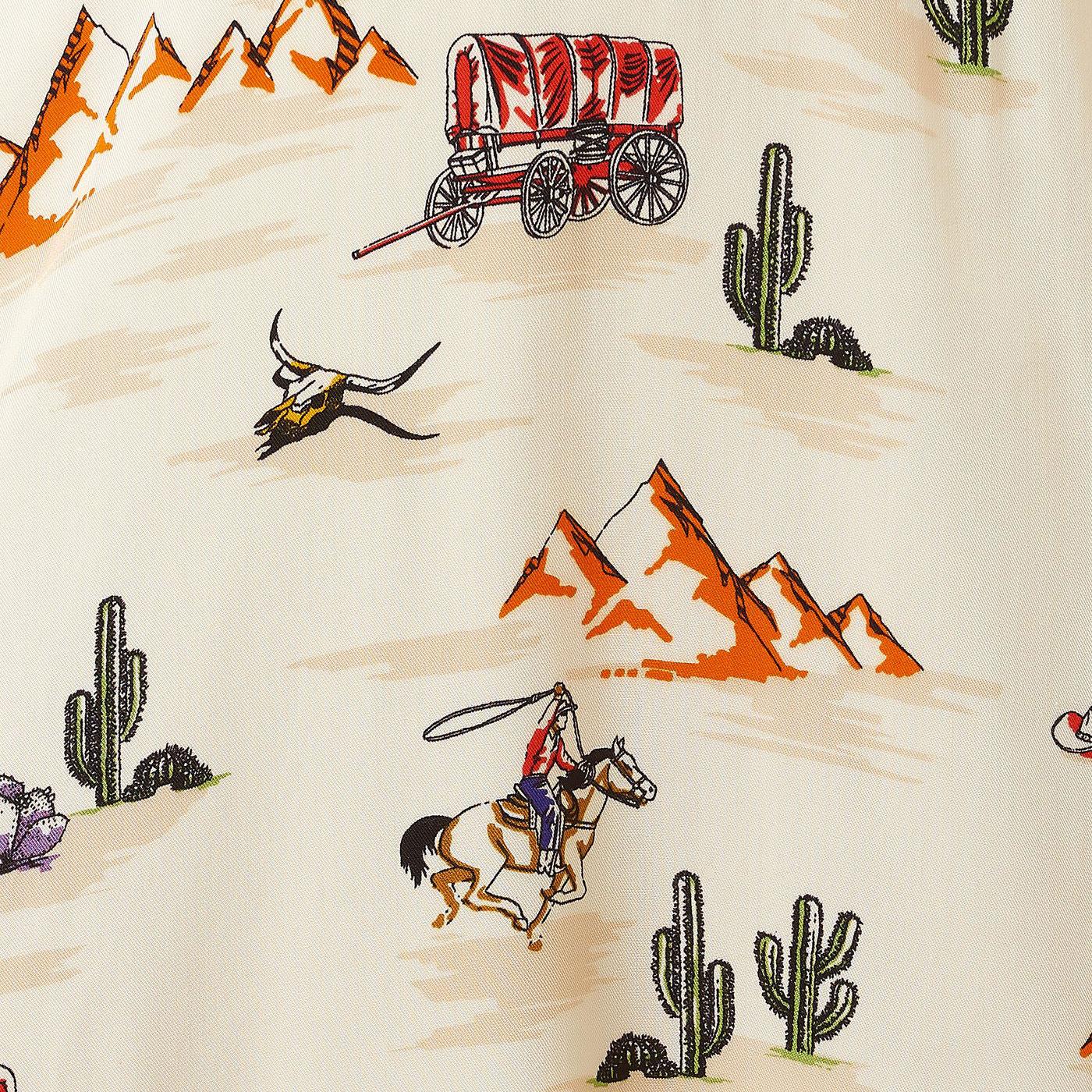 The 'Vintage Cowboy' print is an exclusive painterly style Wild West scene conjured up in the brand's Brighton studio. Against the stone fabric canvas, Midwest elements are pulled together, including cacti, mountains, cow skulls and, of course, lasso-toting cowboys galloping on horseback.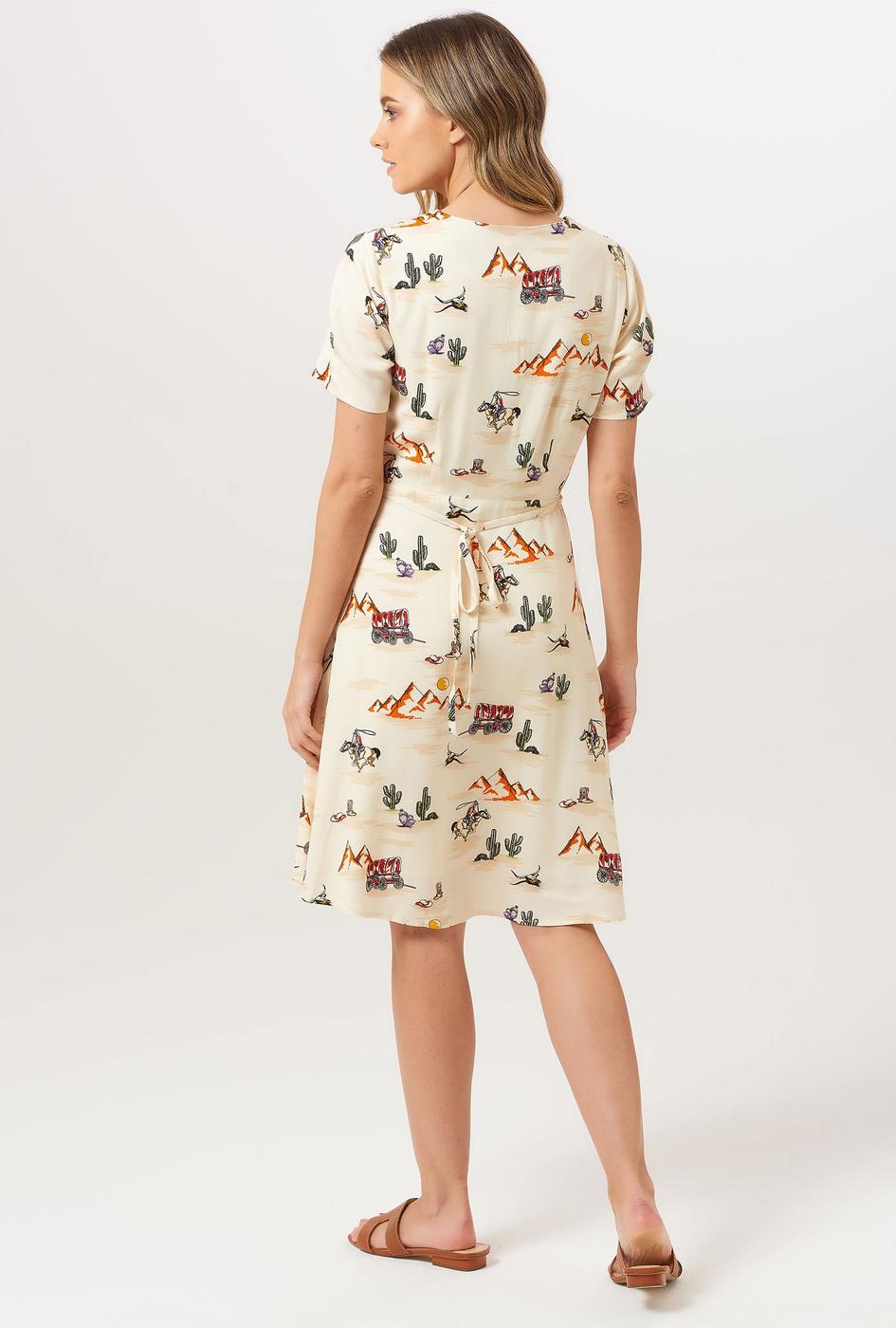 Whilst the Carrie 'Vintage Cowboy' tea dress is irresistibly on-trend, there's something timeless about the design. How will you be styling it this season? Let us know! Stuck for ideas? Create a foolproof day look that is feminine, yet relaxed with these 2-strap Arizona Birkenstocks, 70s stonewash denim jacket from Lee Jeans, and this gorgeous Disaster Designs saddle bag in complementary natural tones.
Jackie 'Havana' wrap dress
Salsa dancing your way out of an off-beat rum bar, you melt into La Habana Vieja. The cobbled streets are alive. Eyes wide, you breathe it in and marvel at the vibrancy of it all; the colours, decadent Jazz and cigar plumes that cling to you, rich and earthy. It's intoxicating. The last of the day's sun beats down on you and the gleaming teal Chevrolet at the roadside. Wherever you find yourself whiling away those hot summer evenings, you can't deny the Sugarhill Brighton Jackie 'Havana' wrap dress was made for it.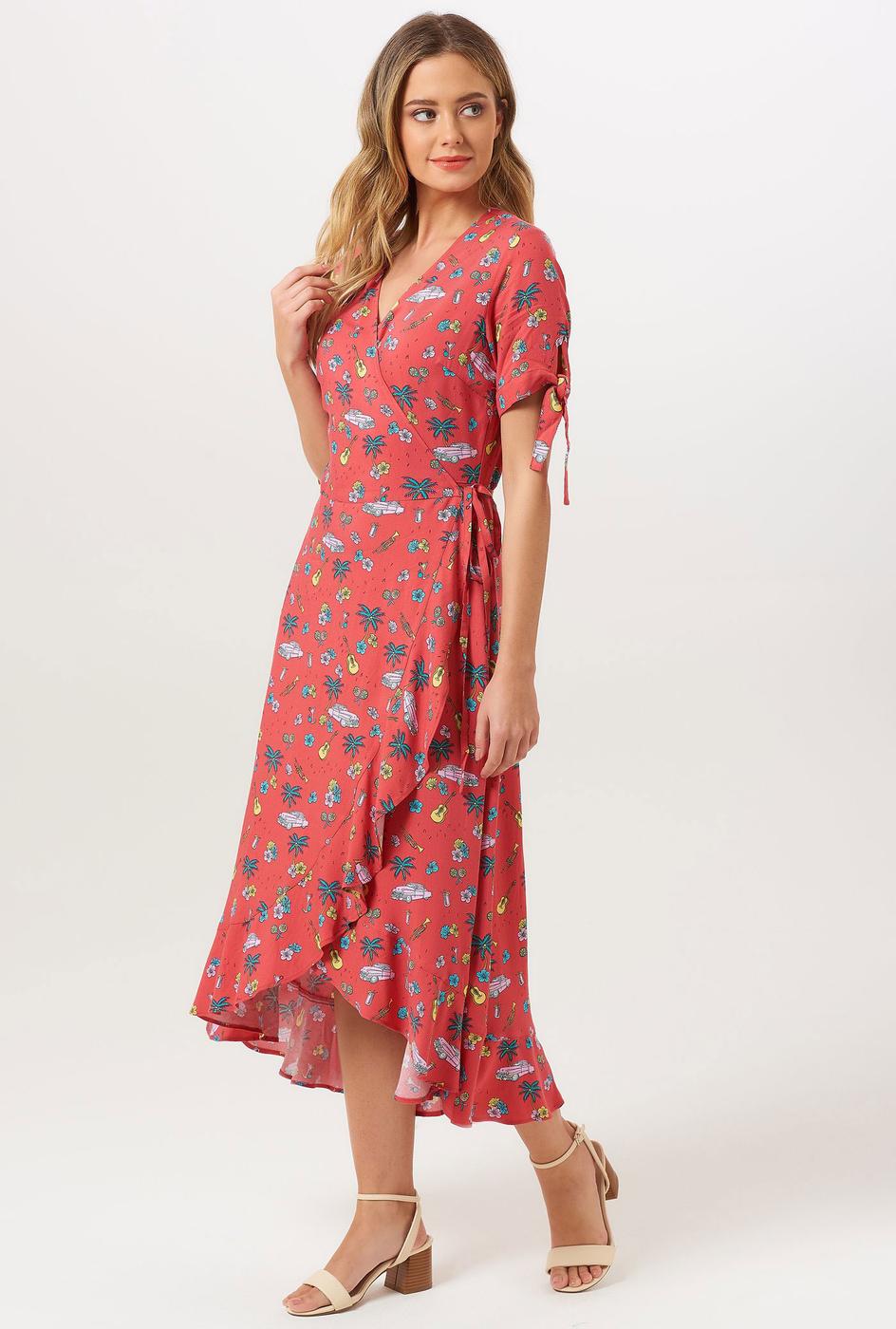 Made from 100% viscose, this is a light and sultry statement piece laden with little details that will carry you easily from day to night. The warm coral red of this frilled midi wrap dress is peppered with an exclusive, hand-drawn print of classic American cars, delectable cocktails, leafy palm trees and delicate musical motifs – a subtle nod to Cuban Jazz. Sugarhill Brighton sure has created something irresistible here.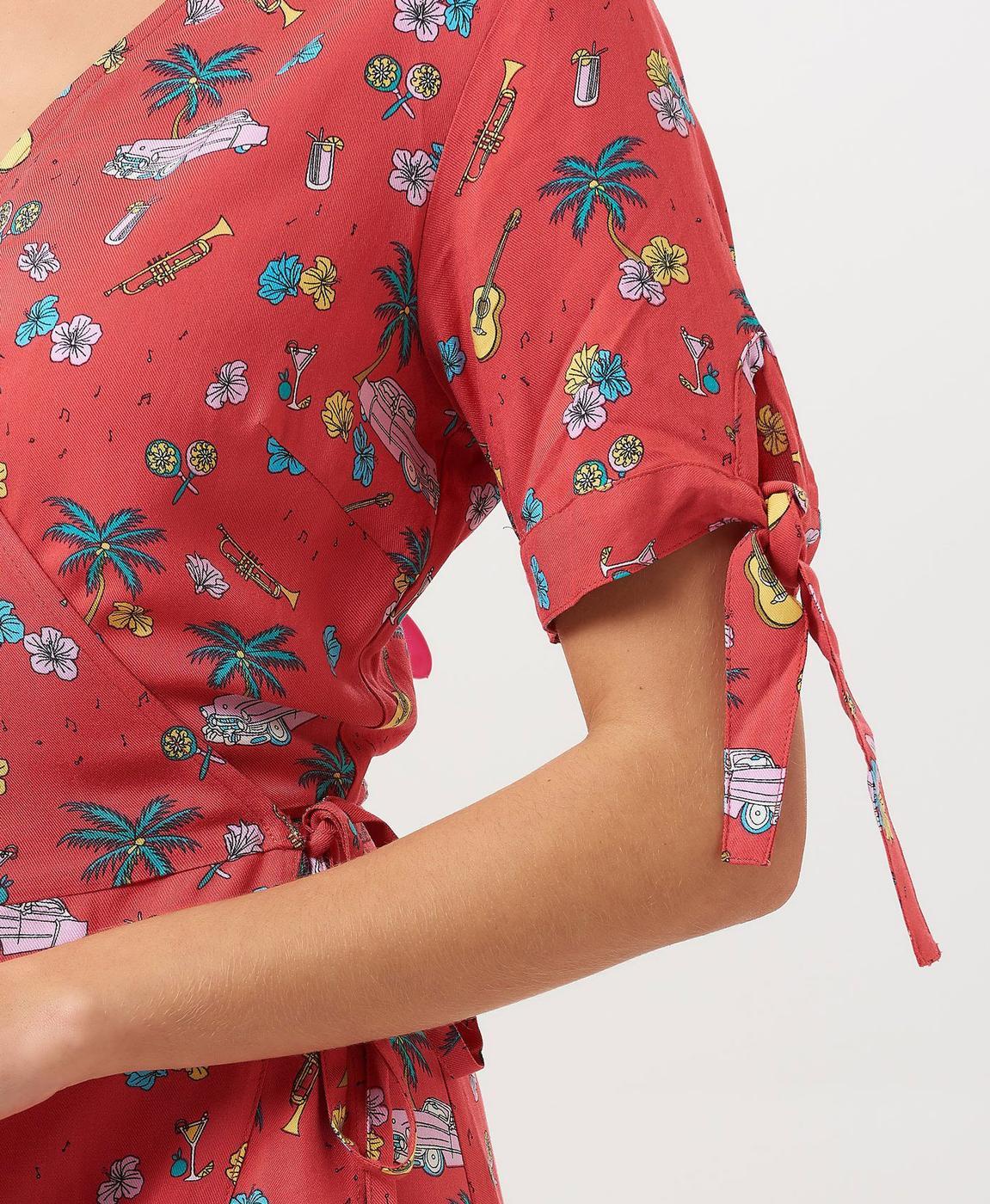 The waist of the Jackie 'Havana' wrap dress is cinched with a matching fabric tie and frills tumble down its length. The capped sleeves feature fabric ties, adding an alluring vintage feel to the 'Havana' wrap dress. Whilst glittering, kitsch details like these Louche tortoiseshell earrings wouldn't look out of place, we'd keep accessories to a minimum. Simply add some Mayari Vegan Birkenstocks and let this Sugarhill Brighton dress do the talking.
Becoming a brand with a conscience
Materials aren't the only thing Sugarhill Brighton is mindful of. It understands fashion often exists at the cost of real people and it is determined not to be one of those brands. With that, the company is committed to ethically manufactured products. It expects its suppliers to pay a living wage and – among many things – operate in line with the Ethical Trading Initiative Base code to provide their employees with a working environment that is safe, hygienic and humane.
Under its new moniker, Sugarhill Brighton is carving out a place in the fashion landscape as a Great British brand with a conscience. The #WearAndCare initiative is a testament to that. With it, the brand teams up with charities it's especially passionate about to launch items that will generate funds for worthwhile causes.
Mimi 'Don't Worry, Be Happy' t-shirt
The Mimi 'Don't Worry, Be Happy' t-shirt is one of our favourite offerings from the #WearAndCare collection and it's available online at Atom Retro today. Exclusively designed in collaboration with the UK charity, Whoopsadaisy, a tidy sum from every t-shirt sale goes to children affected by cerebral palsy and motor disorders.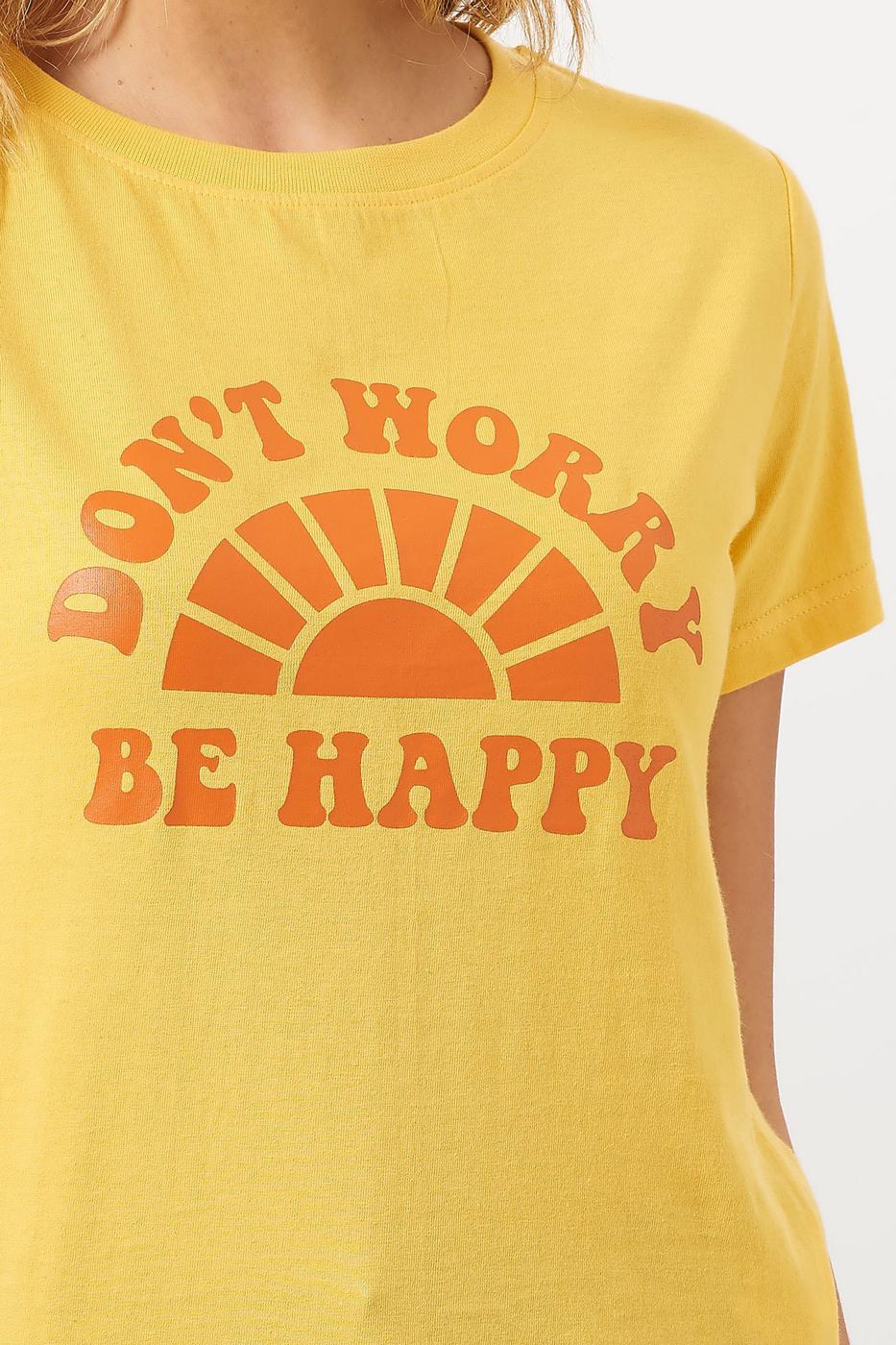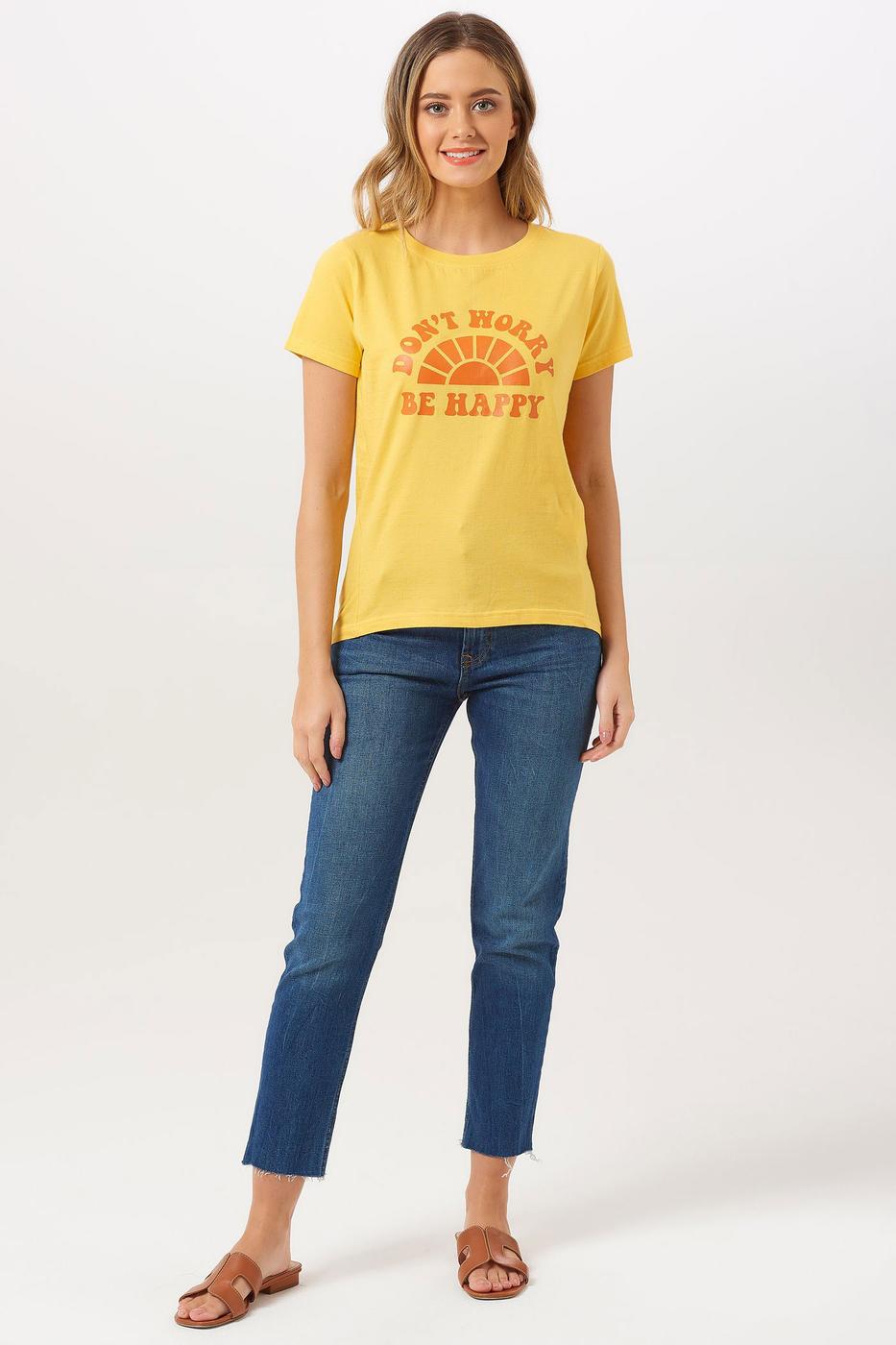 Ridiculously soft (that'll be the 100% organic cotton!), vintage-inspired and in glorious sunshine yellow, is it possible to be anything but happy wearing this Sugarhill Brighton tee? It's unlikely. To keep that happy-go-lucky vibe shining bright, tuck into this Lee Jeans denim pencil skirt and style with rainbow Gola trainers and the Beach Hut Seaside bag from Irregular Choice.
Mimi 'Dream Big' t-shirt
Another descendant from the #WearAndCare initiative, the Mimi 'Dream Big' tee comes in collaboration with Plan International UK and is exactly the kind of affirmation we need to see more of, thank you very much. The repeating 'dream big' text is a head turner. Do you recognise the retro typeface, Cooper Black? Most recently used on the side of EasyJet planes, we prefer to remember it as the typeface of choice for the Pet Sounds (The Beach Boys), LA Woman (The Doors), and Ziggy Stardust (David Bowie) album covers.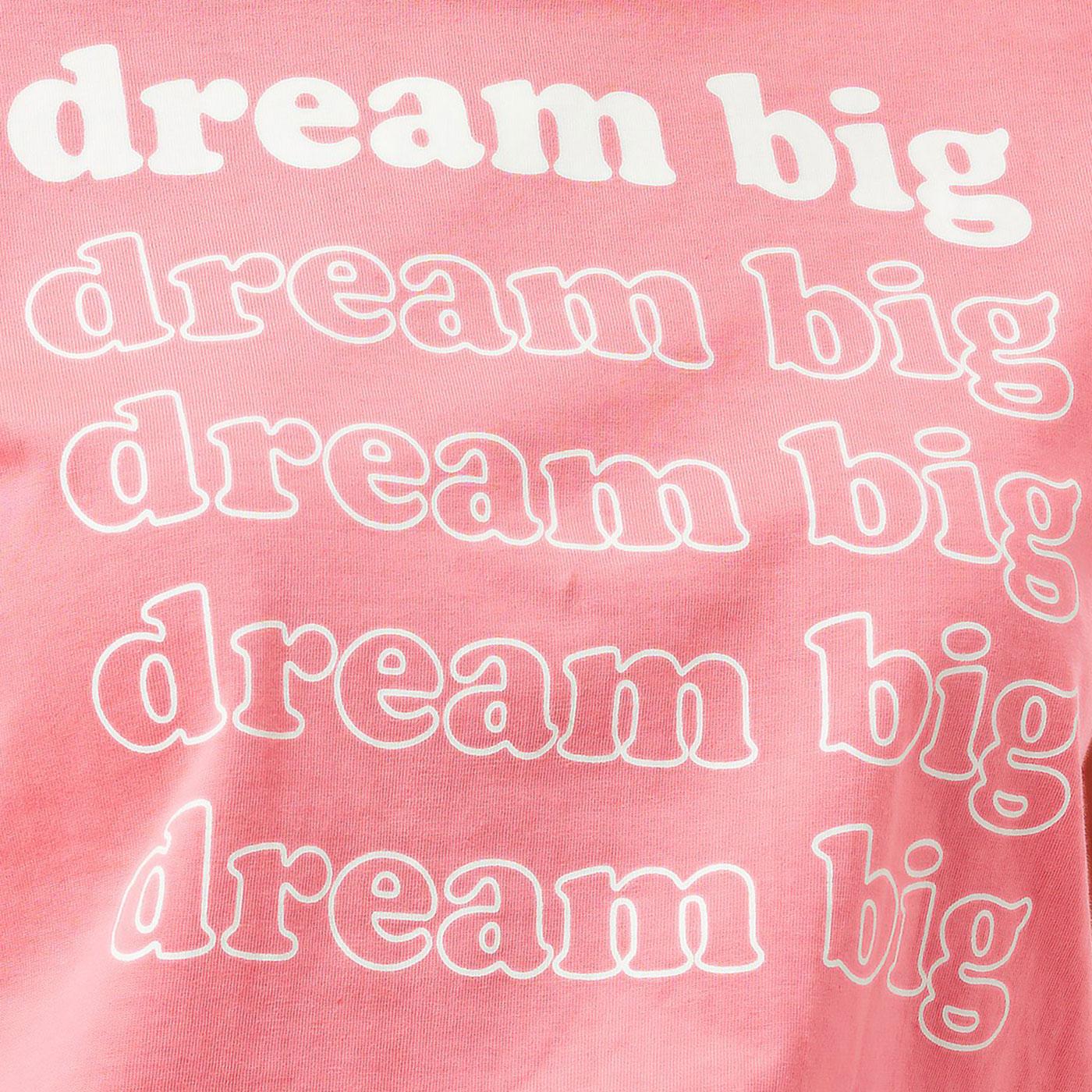 The stunning soft coral tone will make sun-kissed skin sing. Best of all, the Mimi 'Dream Big' tee is a collaboration with Plan International UK, with £5 from every t-shirt sale funding their efforts to progress children's rights and equality for girls the world over.
With big dreams, you can't do things by halves. Only a bright and bold outfit is going to cut it, right? With this vibrant Mimi tee, we'd go all out with pastels and that means one thing: Irregular Choice. Tuck the tee into a pair of super high-waist skinny jeans, make a beeline for the Mint Slice Irregular Choice glitter flats and complete with this adorable Here Kitty Kitty bag from Irregular Choice – all available at AtomRetro.com.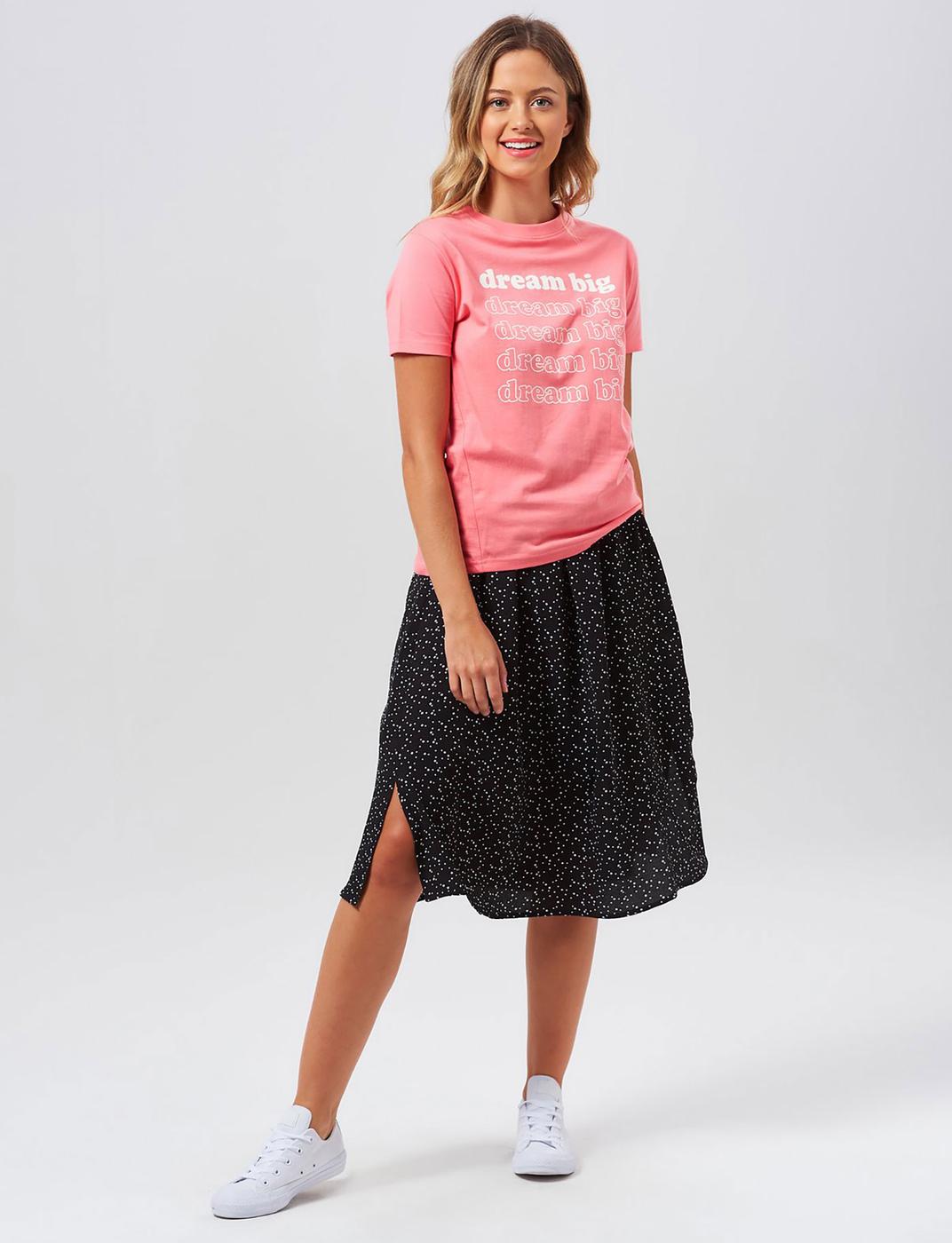 This is just a flavour of all Atom Retro has to offer from the south coast fashion favourite. Whether you're in need of a wedding guest outfit, jetting off on holiday or fancy treating yourself to a cute summer outfit, you'll be spoilt for choice with Sugarhill Brighton's playful range of vintage-inspired dresses, tops and skirts.
Photography from Sugarhill Brighton